Auckland Engagement Rings
Shopping For the Perfect Engagement Ring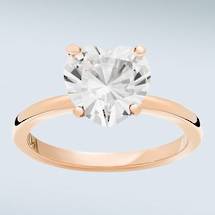 So you are ready to pop the question. To make this day as special as possible, you need the perfect engagement ring. Hopefully, you have some idea of what your future fiancée will like. If not, it may be helpful to bring along her best friend, sister, or mother when you go shopping for an engagement ring in Auckland. If you believe you know what to look for, here are some tips to help you get started.
Choose the metal. Start by choosing the setting for the engagement ring. White gold, platinum and palladium are all a silver colour, while yellow gold is a golden look and rose gold is a slightly browner colour. The most popular choices today are 18K gold and platinum. You can discreetly check the jewellery your future fiancée wears most often to see if she prefers silver or gold.
Once you have chosen the metal, it is time to select the setting. Think about your future fiancée's lifestyle and her personality. Is she traditional and elegant or more of an outdoors, natural person? If she's more traditional, she may prefer a classic solitaire diamond ring. If she's more into hiking and rafting, consider a setting which incorporates some natural elements such as vines or flowers.
If your fiancée is a romantic, she may love a setting which features filigree or dainty bands. If she a real contemporary woman who is into modern styles and trends, perhaps you should look custom-designed rings like those in the Orsini Fine Jewellery range. There is a setting for every personality, but you should always consider your future fiancé's personality and personal style when choosing the setting.
The next step is to choose the stone. This may already be decided, depending upon the setting. However, many settings can be customised to fit various types of stones. If you are going with a diamond, do some research beforehand so you know what you are looking for. The four Cs of diamonds are colour, cut, clarity and carat. The price of the diamond will depend upon these factors, with carat and clarity being the two having the most impact. Basically, the larger and clearer the diamond, the more expensive it will be.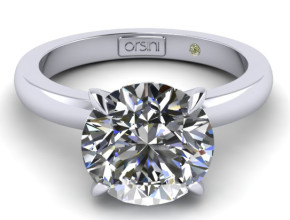 The cut of the diamond can also make a difference. Again, when selecting the cut, think about your future fiancée. If she is into today's styles and trends, she may like a cushion cut instead of a tradition raised solitaire. If she's active, having her diamond set down into the band, rather than raised may be a better choice. If she's really feminine and into vintage styles, she may prefer a round or princess cut stone whereas if she's more modern, she may like an emerald or cabochon.
Also consider accents. You may want to add smaller diamonds or coloured gemstones along the band or on either side of the diamond. You could consider adding engraving to the band. There may be a saying or an accent such as leaves or flowers which means something special to you both.
Selecting just the right engagement ring can be fun, but can also be intimidating. Take some time and observe your fiancée closely to be sure you understand her style and personality and then go shopping. A good jeweller knows that many men are not comfortable buying jewellery so they will be very glad to help you find that engagement ring in Auckland.